'Vanderpump Rules' star Lala Kent on life after Randall Emmett
After her engagement imploded, reality TV star Lala Kent drove through the Benedict Canyon ravine to seek solace in a sage.
It had been a month since the Los Angeles Times published an investigation about her ex-fiancé, the movie producer Randall Emmett, alleging that he'd abused women, assistants and business partners, which he has denied.
Now, cameras were back up to film the 10th season of Bravo's reality program, "Vanderpump Rules," and the drama surrounding Kent was playing out onscreen. Show producers told her that Lisa Vanderpump — the matriarch of the series — wanted to talk.
Subscribers get exclusive access to this story
We're offering L.A. Times subscribers special access to our best journalism. Thank you for your support.

Explore more Subscriber Exclusive content.
Kent arrived at Villa Rosa, Vanderpump's $11.9-million Beverly Hills home where swans, miniature horses and rescue dogs roam the grounds. Moments after she sat down in the sunlight-bathed, white-marbled kitchen, Vanderpump started grilling her about just how much she knew about Emmett's alleged bad behavior.
"If you're totally honest, you must have known there was something going on," Vanderpump said in a scene that later aired on the show."You're smarter than that. I don't think you wanted to see it."
Which was not what Kent wanted to hear as her personal life was collapsing in a sea of scandal.
The ex-fiance of reality star Lala Kent faces the collapse of his company amid a trail of lawsuits, civil fraud charges and allegations of abusive behavior.
The 32-year-old former model is the polarizing star on one of television's hottest shows. Over the last seven seasons, millions of Bravo viewers have lapped up details of Kent's life — the drunken tirades, the insults hurled at cast members and the public proclamations of love for Emmett followed by the humiliating allegations of infidelity — becoming fodder for a Times investigation and a 90-minute documentary streaming on Hulu.
Vanderpump's pointed questioning of Kent last July stood in stark contrast with this spring's outpouring of love for another "Vanderpump Rules" star, Ariana Madix. In March, Madix discovered her partner of nine years, Tom Sandoval, had been carrying on an illicit seven-month affair with one of Madix's closest friends — fellow cast member Raquel Leviss.
The "Scandoval," as fans deemed it, shook the Bravo universe. The network scrambled to pick up shooting during its off-season to capture the tensions — a decision that paid off as more than 3 million viewers have tuned into recent episodes.
Madix has found an army of support from viewers and castmates who've brought flowers, wine and healing crystals to the Valley Village home that she and Sandoval are still, uncomfortably, sharing. The 37-year-old has landed a role in a Lifetime movie, and a spot on the upcoming season of ABC's "Dancing With the Stars." Bloomingdale's and Bic razors signed her to promotional deals.
But Kent and her story of betrayal have not engendered a similar outpouring of support.
"Maybe she should have known to not, like, get knocked up by a f— dude like that," Sandoval ranted on the show.
Racquel Gates, a film and media studies professor at Columbia University, suggested that troubling cultural tropes could help explain why viewers root for Madix but look skeptically at Kent.
"Women have to be 'perfect' victims in order for them to get any kind of sympathy," Gates said.
With her sharp tongue and take-no-prisoners swagger, Kent doesn't meet that standard. Since arriving on "Vanderpump Rules" in 2015, Kent has been perceived as a "thug diva," said her childhood friend, Madison Riley. Kent has labeled herself a "Michael Vick fighting dog," branding her castmates such choice names as "Bambi-eyed b—," "yapping Chihuahua" and "epitome of a f— loser."
She joined the show, which began as a spinoff of Bravo's "Real Housewives of Beverly Hills," in Season 4. She was hired as a hostess at SUR, Vanderpump's trendy West Hollywood restaurant whose employees were the subjects of the series. During her first week on the job, Kent attempted to beg off work to travel abroad with a wealthy guy. Before long, she met another seemingly affluent man — Emmett — and later bragged to a castmate about how after "the first night we banged, I got a car the next day." (It was a white Range Rover.)
"This is one of many things Lala said on the show for shock value," Emmett said in a statement.
The producer, who was 44 at the time, was still married to actor Ambyr Childers. Kent, then 25, has always insisted that Emmett told her that he and his wife were separated, but Emmett said in the statement, "Lala was well aware of my situation with Ambyr."
The situation sparked a perception that Kent was a man-stealing gold digger.
"To see a young, beautiful girl and an older, not-so-in-shape guy — people just assume the worst," said Scheana Shay, Kent's closest castmate on "Vanderpump Rules."
Vanderpump said some fans disapproved of Kent because of the circumstances of the relationship. "It was secretive at the beginning because Randall had been in this marriage and he was separated — it was all a bit of a mess," Vanderpump said in an interview.
"She has sometimes had some low points as she's struggled with, wouldn't say it's public humiliation, because I think she's won," Vanderpump said of the breakup. "Of course, she was the victim."
Kent is well aware that not everybody believes that she's been wronged.
"If I were listening to this story, I wouldn't believe it," she acknowledged in an interview with The Times. "I get it. I know the optics. I know how the outside world looks at me."
She was sitting in her West Hollywood office last month, surrounded by her growing product lines. She's long sold makeup, skin care products, a book and baby clothes under her #GiveThemLala brand umbrella, but this spring, she started pushing merchandise emblazoned with "Send it to Darrell," a catchphrase that went viral after Kent, in an online rant, demanded that Leviss send any legal papers to her attorney, Darrell Miller.
Kent has worked to build her business — she wore a black "Send it to Darrell" hoodie during the season finale — as she wages a contentious custody battle for her 2-year-old daughter, Ocean, whom she shares with Emmett. She also has been trying to forge a new identityin the wake of the disastrous romance with the producer.
He is the subject of a new documentary being released this week by ABC News Studios and L.A. Times Studios, "The Randall Scandal: Love, Loathing, and Vanderpump." The film explores Emmett's fall from Hollywood grace through interviews with his former assistants and film industry colleagues who criticize his use of Bruce Willis when the star was in the early stages of dementia.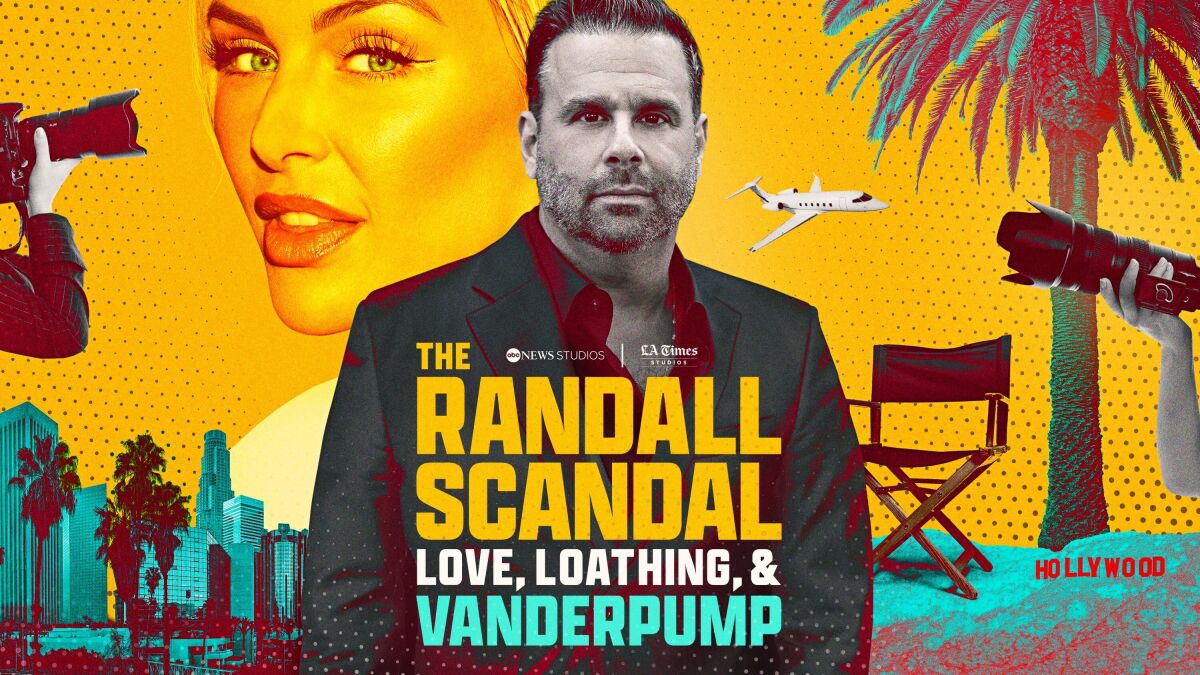 Emmett previously has said he was unaware of Willis' declining health.
In his statement, Emmett said he declined to participate in the documentary, blasting it as "nothing more than a vindictive hit piece, a regurgitation of a biased article and a cheap attempt to capitalize on the current 'Vanderpump Rules' fever." (In a statement, the paper's spokeswoman Hillary Manning said: "The Los Angeles Times stands behind its reporting on Randall Emmett.")
Kent denied Emmett's claims.
"If there was nothing to write about, and there was no story to tell … there wouldn't be a documentary," Kent said. "I can't just pick up the phone and tell the L.A. Times to create an article. I don't have that kind of power."
Fueled by the "Scandoval," the decade-old Bravo show has attained renewed cultural relevance. The primary cast, who began working at SUR as servers in their 20s, are now approaching middle age and had been drifting apart. Without the group serving goat cheese balls and Pumptinis at SUR, it often felt as if producers were struggling to find reasons for the cast to socialize.
But the recent drama has changed that.
"This season of 'Vanderpump Rules' feels like the ultimate reward for viewers who have been there since Day 1," said Gates, a self-professed fan of the show. "This moment is so fascinating, in terms of reality television — a form of media that's always talked about in such a derisive manner. This show has become headline news."
****
Kent never saw herself as a reality star.
Growing up in an affluent suburb of Salt Lake City, Lauren Elyse Burningham was a daddy's girl who devoured episodes of "Friends" and "Seinfeld," and had big dreams of becoming a famous actor. (Kent is her late father's first name.)
Detractors have seized on her upper-middle-class upbringing to accuse her of being some foulmouthed phony posing as a streetwise brawler. Online, she's sometimes called pejoratively "Lauren from Utah."
Kent doesn't mind the moniker. "That's the girl that I am when cameras are put down," she said.
It was her younger brother, Easton, who first called her Lala. He was little at the time and couldn't pronounce Lauren.
"Lala became my armor," Kent said. "I realized this world will eat me alive if I don't go into it with some sort of shield."
Longtime friends and associates say the Lala veneer prevents those outside her tight circle from getting a glimpse of her vulnerable side.
"She really values security. She's always been that way," Riley, her childhood friend, said. "She wants to have a safe home to go to … everything she does is to build that haven for herself."
When she arrived in L.A. nearly a decade ago,Kent worked as a fit model. She'd try on clothes for brands that would use her body in images where her head was cropped out. In her spare time, she'd hang out at SUR, the Vanderpump-owned West Hollywood restaurant where Riley and her sister worked.
In interviews with The Times this month, nearly two dozen people who were on set with the actor expressed concern about Willis' well-being.
Vanderpump noticed her and offered her a job as a hostess, which came with a position on the reality show.
"From the minute that we saw Lala, we knew that she was one of one," said Alex Baskin, the executive producer who developed "Vanderpump Rules." After producers first sent her an appearance release to sign in 2015, he said Kent responded to the lawyer in an email: "Hey, girl, just having it reviewed."
"She was rough around the edges," Baskin said.
It was at the restaurant's hostess stand that Emmett first introduced himself to Kent, she said.
"This guy comes over to me and says, 'My boss is a movie producer and he would really like to put you in a film,'" Kent said. She gave him her Instagram username and returned to seating the tables. Emmett denied that he sent his assistant to make the introduction.
The following day Emmett reached out, Kent said. She looked him up and was impressed that he'd worked with major movie stars — Arnold Schwarzenegger, Jake Gyllenhaal, Sylvester Stallone. Emmett made the kind of movies that her father rented from Redbox every weekend back in Utah: "Random action films with Bruce Willis in them that no one had ever heard of," she said.
She felt like the stars were aligning. On early auditions in L.A., casting directors had insisted she build up her social media following. She'd done "Vanderpump Rules" in the hopes that reality TV could boost her numbers, and now a movie producer wanted to work with her.
"This man recognizes me from the show and wants to put me in a film when he has not seen my talent at all," Kent said. "It's got to be because my name is known. I'm a somebody."
She paused, her lip quivering.
"Looking back, obviously, I would tell myself: 'Run away,'" she said, crying. "I wish that I could go back and protect that version of myself. I was prime prey for Randall Emmett."
Emmett said: "Quite honestly, looking back I consider myself prime prey for Lala Kent. I was completely taken advantage of and used for storylines on the show."
Kent didn't have a manager yet, so she asked a representative working with some of the "Vanderpump" cast to help facilitate the meeting. Soon the pair trekked to Emmett's Wilshire Boulevard office to discuss Kent being cast in "The Row," a slasher film about a group of sorority sisters being hunted by a mysterious killer.
The discussion went so well that the trio had a subsequent meal together at Mr. Chow to discuss further details. Emmett asked for Kent's address, so he could have a new version of the script sent to her.
Suddenly, expensive gifts began arriving at her home. A Chanel bag. Christian Louboutin boots. Notes were never included with the deliveries, only a heads-up text from Emmett alerting Kent that an Uber driver was outside with something for her. She was thrilled by the lavish presents — luxury items that she, then living in a $900-a-month Miracle Mile apartment, wouldn't have been able to afford on her own. And Emmett sent more personalized gifts too: Handles of Tito's vodka, her preferred drink, or a box of Tamiflu when he knew she was sick.
"I lived with my parents until I was 23, so I'd never gone to a doctor's appointment or filled a prescription on my own,"she said. "And here was this person taking care of me."
The popularity of the show has soared on the back of a cheating scandal, generating unexpected fame for one entertainment attorney.
"During the entire course of the relationship, I financially supported Lala and her family," Emmett said of the gifts.
No one suggested she might be ignoring red flags until Emmett invited Kent on a trip to New York in February 2016.
"You are absolutely not going with him," her mother told her, advising her daughter to keep her personal and business lives separate. But when a Bravo television appearance coincided with Emmett's visit to the city, Kent gave him a call.
In New York, Kent was surprised by her attraction to Emmett; he wasn't her usual type and he was two decades her senior. But he had charming confidence, a playful energy always oriented toward having fun. So over dinner at Tao, she placed her hand on his leg to indicate her interest. She was also drunk, she said, and had an abusive relationship with alcohol at the time; she said she has been sober since 2018.
The following evening, the two slept together. In the hotel room, she found herself surprisingly at ease — even when she removed her makeup.
"He said 'Wow, you're really the most beautiful person I've ever seen,'" she said. "I felt like he was seeing me, not the person on TV. I was like, 'Wow, we're soulmates. I'm going to be with someone who has their own thing going on. I'm on a TV show. We could potentially become a power couple.'"
Over the next few months, the couple traveled extensively via private jet. He gave her a promise ring and began paying her $2,400 monthly rent at an apartment in the complex where the stars of MTV's "The Hills" once lived.
The affair caused problems for "Vanderpump" producers, because Emmett initially refused to appear on camera.
"Those were some tense times," Baskin said. "We need participants to be completely open about their lives, and it wasn't fair to make different rules for different participants on the show."
Emmett said he "did not want to appear on the show," and only did so "to be a good partner and support" Kent so she could remain a key figure on the series.
With Bravo's Andy Cohen promising a 'shocking' new episode of 'Vanderpump Rules' in light of the show's cheating scandal, we explain it all for the uninitiated.
It was a difficult period.
"She kind of lost her way early on," Vanderpump said. "She really became difficult to work with — just too unreliable. She wouldn't show up."
Vanderpump said she started to question whether Kent was cut out for a reality show.
"I sat her down and said, 'You are not running away. You have got to turn this around,'" Vanderpump said. "I've always believed in Lala."
Despite professing her love for Emmett onscreen, Kent said cracks in her relationship with Emmett started to show. There were his frequent business trips and fights. She said he was always on his cellphone.
"When you're in the public eye, you really want it to work out," Riley said.
After moving into his Holmby Hills estate on Mulholland Drive — a 4,276-square-foot home that is currently on the market for $4.75 million, down $1.5 million from the price listed a year ago — Kent became concerned about her fiancé's finances. When a sewer line needed to be replaced, she said he asked her to cover the $18,000 bill.
"I just thought he was pretending to have more money than he actually did," she said.
Emmett disputed the cost of the sewer repair, saying it was $5,800. But he acknowledged Kent paid the bill "as a surprise 'thank you' for all I had done for her financially."
When she got pregnant with Ocean, however, Kent said their relationship further deteriorated. In March 2021, she was induced into labor. At the hospital, she was given an IV and passed out; after coming to, she said, Emmett told her she looked like she was "part of an exorcism." He was so uncomfortable, Kent said, that he arranged for her mother, Lisa Burningham, to immediately fly from Utah to L.A. to take his place. He proceeded to rent a hospital suite, where he went to sleep after his assistant delivered him Fireball, NyQuil and bedding.
By 6:45 a.m., Kent was ready to deliver Ocean. Burningham told The Times she roused Emmett, who witnessed the birth and then left the hospital by 8 a.m. He did not return to the hospital until Kent was discharged the following day, she said.
Emmett denies that account: "The birth of Ocean was one of the most wonderful moments of my life and I was present for every second of it."
At home on Mulholland, tensions remained high. After days of jabs about breastfeeding, Kent snapped.
"Watch your f— mouth. I'm still the same b— you met when I was 25," she told him, Ocean still at her chest.
Moments later, she said, Emmett found her and apologized.
"Wow," she said he told her. "That was so hot."
Emmett denied making the remark. "I would never find abusive language like that 'hot,'" he said.
"To this day, I look at myself and go: 'How the f— did you stay?'" Kent said. "I want to shake myself."
In October 2021, Kent knew their relationship was over. While Emmett was away shooting a film in Alabama, one of her friends alerted her to pictures circulating online. The images showed Emmett in Nashville with two young women.
Kent, at home in L.A. with their infant daughter, was devastated. Emmett rushed back, Kent grabbed his phone, and they got into an altercation as he tried to wrestle it away. Emmett has denied that a physical fight ensued.
Even Vanderpump admitted to being charmed by Emmett, she said, noting that she welcomed him to Villa Rosa after his breakup with Kent.
"I've had him sitting in my house, crying in my living room, telling me how much he loved Lala," she said. "I think Lala idealized the relationship with Randall, and he obviously led her down the garden path. ... I sat there and bought it, and I'm pretty savvy."
Emmett denies mistreating Kent, saying he was disheartened that "she has decided to take this venomous path of anger and hatred by disparaging the father of her child."
"During our relationship, I treated Lala like a queen. I was incredibly generous with her both emotionally and financially," Emmett said. "Like any couple, we had moments that were amazing and others that were not so good. Looking back, I think it's safe to say we both have some regrets."
Kent continues to reckon with how the relationship affected her self-worth. She no longer seeks acting roles because she doesn't believe that the industry would take her seriously as a performer. While with Emmett, she appeared in six of his movies — sharing screen time with movie stars such as Willis and Al Pacino. At the time, she felt she deserved the parts.
"Now, it's like, 'They were right. I was just sleeping with the right dude,'" she said. "It's going to take me a minute to go back and say, 'Was I talented?' In the moment, working with those legends, it was incredible. But now it just feels dirty."
Watching "Vanderpump Rules" is triggering for her too. Why was she asked about missing red flags — and not Madix?
"My heart breaks for Ariana, and I love that everyone rallied around her," she said. "But then I think about people that were saying they hope that I donate some of my 'Send it to Darrell' merch money to her legal fees. I'm just shy of a million dollars into a custody battle."
For the last 18 months, Kent has sought to limit the time that Ocean spends with her father. She's also grown closer to a former foe, Emmett's ex-wife, Childers, who has also gone to court to revisit terms of her custody arrangement for her two daughters with Emmett.
Kent's custody quest inspired her to use her celebrity to become an advocate for others who struggle against the system to protect their children. She has become involved in One Mom's Battle, a group that helps parents navigate custody disputes, and she recently joined them for a protest outside a Los Angeles County courthouse.
"There's just so many things that are broken, and I have to be a voice for it," she said.
People close to Kent say they've seen her evolution after she became sober, grappled with the loss of her father, became a mother, ditched Emmett and waged the custody battle.
"We've seen her grow, from this rough-around-the-edges 'Lauren from Utah,' who moved out here, thinking she was savvier than she was and acting like she was tougher than she was," Baskin said. "She has gained a sense of responsibility — and it's pretty powerful."
Audiences have seen that Kent was the one who consistently raised questions about whether Sandoval was cheating — long before "Scandoval" became a trending term.
"It served as a vindication for her," Baskin said.
Kent hopes to partake in the 11th season of the show, which just got the greenlight from Bravo. But she's also focused on life after "Vanderpump," recording a weekly podcast and signing with power agency CAA.
"I think what makes me the happiest is that I finally recognize myself again," Kent said. "For a really long time, I lived in this fog of: How did I turn into someone who I don't know? What happened to the girl who comes from Utah? I feel free."