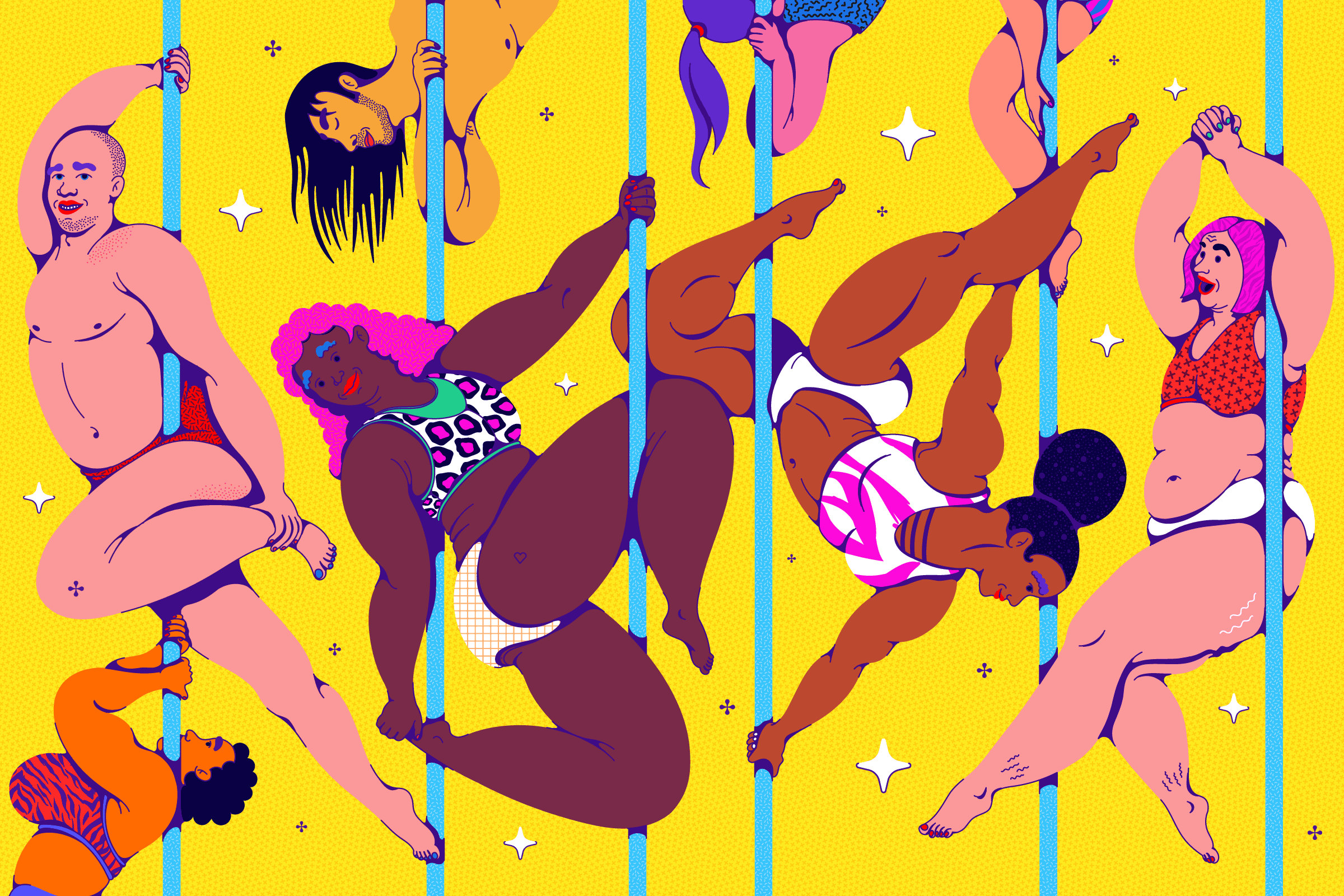 Pole dance changed my life. Here are 13 L.A. spots to try it for yourself
The pandemic led me to the pole.
Let me explain.
Prior to 2021, I had never been strong in my life. In fact, I was pretty damn weak. It was so bad that from the moment I booked a flight, I would start actively worrying about having to lift my carry-on into the overhead compartment by myself. As someone who is self-reliant in most other aspects of my life, that sense of physical helplessness felt embarrassing.
Like many people, the pandemic's shelter-in-place mandate made me start to go stir crazy. That's how I found myself considering doing something I had never given much thought to before: dedicating time, energy and money to fitness.
I started out by getting a basic gym membership with a friend. As long as I had an accountability partner to work out with, I was consistent. But once our schedules no longer aligned, I found myself returning to a sedentary lifestyle. Now that I knew how it felt to be strong, it didn't feel as good to go back to having noodle arms. I tried to figure out a fun way to sneak in the workouts and decided to try a pole dance class on a whim.
I took my first class in July 2021 with Celina Huang at BeSpun. With all the grace of a newborn antelope, I stumbled around the pole, trying to hit the foreign-feeling moves on time and feeling betrayed by my lack of mind-body connection. I can only imagine how terrible I looked, because I was too embarrassed to record myself. But the challenge felt exciting rather than discouraging, so I booked another class and tried again.
I went from having absolutely no upper-body strength to toned biceps, shoulders and abs. I became more flexible, my posture improved and I developed a musicality to my movement that I could only dream of having before. Learning such a challenging skill also unlocked a confidence in myself and my body not tied to aesthetics or external perception. Besides the muscle fatigue and occasional "pole kiss" (a.k.a. bruises left behind after practice), it's been all upside.
Nearly two years later, I'm obsessed with the art of pole dance and have met a ton of interesting people along the way. Most of the women I take classes with are young professionals, ranging in age from their 20s to their 50s and beyond. Pole dancers develop confidence, strength, sensuality and bravery through dedication to this practice (just check out my progress on my dedicated pole Instagram, @spinaiya).
"Curiosity brought me in, confidence and community kept me," explained an instructor at the Secret who uses the stage name Kam Poles.
When most people think of pole dance, their first thought would be the strip club. And while some studios and classes absolutely emphasize unlocking one's inner sexiness and sensuality, many classes more closely resemble a gymnastics or fitness class. The beauty of pole is it can be a tool to grow in different directions, and the practice caters to people of all tastes.
The three main branches of pole are pole sport, pole art and exotic pole. The first emphasizes tricks and technique with minimal choreography. Pole art is about creativity and storytelling with more emphasis on emotional resonance than a display of strength. And exotic pole most resembles what you'd see in a strip club: performers in 6- to 8-inch platform heels dancing sexily.
Pole dance is the ultimate strength builder and stress reliever, and it all happens through dance, one of the most cathartic and beneficial ways to improve brain health. (Studies have shown that dance helps reduce stress, increase serotonin levels and develop new neural connections.) I would advise anyone who is even mildly interested to try a class. There's no barrier to entry because strength and flexibility can and will be developed along the way.
Los Angeles is full of secret staircases. Here are the outdoor climbs that make great walking or running workouts (and have scenic views).
At this point, I've taken classes at all of the major L.A. studios and have held regular memberships at three. Each studio has a different vibe, clientele and way of doing things. I can honestly say that they're all worth checking out at least once.
Allure Dance L.A. by Nicole the Pole
Fairfax
Pole dance studio
$$$
An early pioneer of L.A.'s pole dance scene, Nicole Williams — known professionally as Nicole the Pole — has been pole dancing since the early aughts. She got her start by following along with pole scenes in music videos, teaching herself the complicated tricks from her living room.

"In 2007, there was only YouTube and MySpace," she said with a laugh. "I'm from that era. I'd look at a few tricks and go try to figure it out on the pole."

Then working as a personal trainer, Nicole owned a gym in Baldwin Hills called the Fit Factory, where she began hosting pole classes. "Being a tomboy, I knew right away when I started pole dancing that it was an opportunity to learn how to be sexy while doing all these cool gymnast kinds of tricks," she said. "As I started teaching other people, I started getting better. I was like, 'This is going to revolutionize fitness for women.'"

More than 15 years later, Nicole is a renowned pole dance instructor and performer who has appeared in music videos for such artists as Rihanna, Ne-Yo, Bruno Mars, Nicki Minaj and Future. She's also worked with stars like Cardi B, Toni Braxton, Taraji P. Henson and comedian Loni Love; performed onstage with Ludacris; and just recently wrapped up an international tour with Snoop Dogg.

At Allure Dance L.A., a cozy studio space in Miracle Mile next to the Grove, Nicole specializes in pole tricks, sensual dance, floor work and chair dance, as well as Reiki energy healing and sound healing. Currently accepting private appointments only, Nicole also hosts pole retreats and workshops and is available for in-person or virtual instruction.

Address: This studio's address is given only by request. Contact the studio for more information.
Parking: Covered garage parking
Price: From $90 for a virtual lesson to $125 for a private lesson and $175 for semiprivate lessons of two or more
Come for: The name recognition — Nicole's name rings out among the pole community for good reason
Stay for: Her palpable Virgo energy, which translates to precise instruction and an eye for detail
More Info
Beehive Pole Studio
Pasadena
Pole dance studio
$
Owned by Sheila Rubin, Beehive has been in business for nearly four years. "I realized Pasadena was missing a place where women could be transparent and open and grow in their sexiness," she said.

The communal studio offers classes ranging from tricks and sensual dance to Latin pole, twerk and exotic flow. Occasional pop-up workshops are announced on the studio's Instagram page, including movie nights and a Valentine's Day-themed chair striptease workshop.

Note: Due to the recent barrage of rain storms, classes are currently being held out of Beehive's former studio space next door as the new studio undergoes renovation after flooding.

Parking: Street
Price: $30 for a single class ($25 for new students)
Come for: Instructor Dani Polerina's technical, straightforward breakdown of tricks. Dani Polerina, who uses a stage name, also teaches at Evolve Pole & Dance Studio.
Stay for: The camaraderie and sense of teamwork afforded by the large group classes
More Info
BeSpun Pole Dance Studio
Hollywood
Pole dance studio
$$
BeSpun has been in business since 2007, making it one of the oldest pole studios in L.A. and the U.S.

Owner Amy Guion took over management in 2022 and has implemented a diversity scholarship in the hopes of bolstering inclusion among the studio's clientele.

"I took my very first class at BeSpun in 2008, taught there, managed it for a period of time, and then ended up starting another company in 2012 called Pole Sport Organization, which is a competition series for enthusiast and professional polers," said Guion. "I have been running that business for the last several years and have been loving studio ownership since then. It's been full circle for me."

On offer are tricks and choreography classes, flexibility and strength training and conditioning and floor work. Occasional pop-up workshops have included chair dance, lyrical pole, ballet pole, edge work (heel balancing and flourishes) and static spins.

"Our instructors are pole dance champions and performers from around the city," said Guion. "If you have a body and want to try pole, you are welcome here."

Parking: Metered street parking
Price: From $38 for a single class to $180 for a five-class pass
Come for: Pole star Natasha Wang's tricks classes
Stay for: A post-class bite at Bossa Nova just a few blocks away
More Info
CoCreate Pole Fitness
Downtown L.A.
Pole dance studio
$$
Located in an airy downtown L.A. loft, CoCreate offers in-person and virtual pole, stretch and chair classes with potential yoga and lyra classes in the works.

Owner Tiffeney Scheuerman opened the studio in August 2020 but only started holding group classes in March 2021. Since then, "Many meaningful friendships have been created here and we often spend time together outside of classes, like our beach PolePlay Dates," she said.

With classes capped at six students, patrons can expect dedicated attention and tailored instruction. "Pole dancing enhanced my life in so many ways," said Scheuerman. "I feel like finding this artistry was a gift from the universe and my special purpose is to share this gift with as many people as I can. It's the gift that keeps on giving."

Parking: Flat-rate garage parking
Price: $35 for a single class ($25 for new students)
Come for: Tiffeney's pole trick expertise and challenging combos, which she breaks down on the studio's Instagram page
Stay for: The intimate class setting, capped at just six students
More Info
D&A Flying Yoga
Koreatown
Pole dance studio
$$
Owned by James Jeans founder Seun Lim, a former ballerina at South Korea's Yewon School of ballet, D&A Flying Yoga offers aerial yoga and bungee fitness classes in addition to beginner and intermediate pole classes.
Instructor Sarah Russell (
@sarahpolerbeara
) got her start taking pole classes at Crunch Fitness and has been pole dancing for the last seven years. The huge lofted studio space features tall windows, exposed brick and massive chandeliers, making it arguably one of the most beautiful dance studios in L.A.
Parking:
Dedicated garage parking
Price:
From $45 for a single pole class to $100 for a trial three-class package
Come for:
The gorgeous atrium and light-filled studio
Stay for:
Instructor Sarah Russell's friendly and encouraging demeanor and complicated trick combos
More Info
Evolve Pole & Dance Studio
Mid-City
Pole dance studio
$
Growing up in a musical family, founder Lani Henderson was expected to pick up an instrument, "so dance classes weren't happening," she said.
"I [had] always wanted to learn to dance, specifically a more sexy style of dance [than] hip-hop or ballet," she said. When she discovered pole dance, it "encompassed everything I was seeking — acrobatics, stunts, learning the splits — all while increasing feminine energy and getting a total body workout. I learned that pole dance is truly something everyone can learn, so I created a space for nondancers to come to begin a new journey."
She opened Evolve in 2008, making it one of the oldest pole studios in L.A. Since then, "We've been honored to be featured on 'Basketball Wives,' 'Love & Hip Hop: Hollywood,' 'Bad Girls Club' and 'Botched,'" she said, noting that internet stars like Woah Vicky, Bretman Rock and James Charles; musical acts Danity Kane and Shenseea; and actor-producer Niecy Nash have all taken classes here.
In addition to offering private lessons, pole and dance parties, flex, twerk and floor work classes, Evolve is launching wellness services, including private
infrared sauna
sessions.
Parking:
Metered street parking
Price:
From $67 for a one-week unlimited trial to $47 for an individual class
Come for:
A sauna session before class to loosen up tense muscles
Stay for:
The warm communal vibe offered by instructors and members alike
More Info
Jagged Vertical Dance & Fitness
Sawtelle
Pole dance studio
$$
Seeking a home base for her pole dance company, Jessica Anderson-Gwin opened Jagged Vertical Dance & Fitness in 2013 so her performance troupe would have a regular space to rehearse. Before that, she would barter free pole classes in exchange for a place to practice, carting the heavy aerial equipment from place to place.

"When I set out to open nine years ago, pole was still very stigmatized," said Anderson-Gwin. "I felt the same poses were seen on every other 'high art' or 'circus' apparatus so I set out to (put) pole on an even ground with other aerial arts."

Students at Jagged frequently cross-train between different apparatuses, including hammocks, silks, aerial and lyra hoops. Jagged also hosts occasional specialty workshops featuring rare flying pole and Cyr wheel classes.

"Our teachers are all professional performers experienced in the entertainment industry as well as compassionate, down-to-earth leaders that love their craft and foster those that want to learn," said Anderson-Gwin. "We share and encourage the individuality and safe skill-building of our community."

Notable clients have included singer Alina Baraz, MMA heavyweight champion Josh Barnett, WWE's Nikki Bella and "Dancing With the Stars" contestant Artem Chigvintsev, among others.

Parking: Metered street parking
Price: $45 for a single aerial class to $55 for a flying pole class
Come for: Jagged's wealth of offerings. It's one of the few studios to feature a wide array of aerial equipment, and the only one to hold multiple aerial classes simultaneously in the same room.
Stay for: Instructor Ran Jing's complicated tricks and combos
More Info
Luscious Maven
North Hollywood
Pole dance studio
$
"I've always found movement to be an incredible source of healing, confidence and inspiration," said Luscious Maven founder and director Heather West.

Armed with a background in teaching and coaching and a degree in psychology and education from UCLA, West said she spent stints working in strip clubs and teaching yoga, "but I felt something was missing." After stumbling onto the pole scene, she was inspired to develop and teach her own pole dance program, "a labor of love that weaves together all of my training and experience." Thus, Luscious Maven was born in 2009.

With offerings including flexibility and strength training and conditioning, floor work and twerk classes, Luscious Maven has classes for dancers of all levels and skill sets. The studio has been featured on "The Real Housewives of Beverly Hills," "Basketball Wives" and "Jimmy Kimmel Live!"

"Our clients want more than physical fitness — they are looking for a practice that supports emotional and mental well-being," said West. "Our clients want to feel luscious from the inside out."

Parking: Street parking
Price: From $30 for a single class ($25 for new students) to $140 for a five-class package ($90 for new students)
Come for: Instructor Veronika Pole's comprehensive warm-ups and meticulous direction
Stay for: The experienced instructors, whose high level of expertise mean there's always something to learn for dancers of all levels
More Info
PŌL
Playa Vista
Pole dance studio
$$
PŌL opened its doors at the end of 2019 with a focus on pole tricks and movement. Founder, owner and lead instructor Amanda Wing has cultivated an intimate, boutique feel with the studio, which features minimal dressing and customizable LED lighting.

"We celebrate our differences and aim to cultivate each dancer's innate unique style, whether that be sensual, athletic, experimental, stripper, lyrical, gymnastic or something else entirely," said Wing.

The studio features structured, progressive programming that sees patrons meeting at the same time each week with the same group of classmates. In addition to that base work curriculum, a series of drop-in classes is offered to build skills like floor work, heels and flexibility.

Wing, who credits her background in theater and psychology with helping her to understand the deep connection between movement and the inner self, said she spent years teaching at top studios while developing her own unique program, "which emphasizes self-discovery and embracing your inner fire."

"As I continued to train and perform professionally, I realized that pole dance was more than just a fun way to exercise — it was a tool for emotional expression and empowerment," she said. "Opening PŌL was the culmination of all these experiences and a way for me to create a space where women could come together, celebrate their bodies, and unleash their full potential."

Parking: Street parking
Price: From $40 for a drop-in class to $240 for a six-class series
Come for: The gorgeous, light-filled aesthetic that practically begs to be Instagrammed
Stay for: Amanda's challenging curriculum and patience for her students
More Info
The Pole Garage
Santa Monica
Pole dance studio
$
The Pole Garage, owned and operated by Drea and David Roers, has been in business since 2009. Drea Roers was an early adopter of pole fitness, beginning her pole dance journey in 2003.

"I fell in love with how pole dancing made me feel: alive, strong and confident," she said. "In my heart and soul, I needed to share that profound and personal sense of freedom and expression I had experienced."

Since then, the Pole Garage has hosted a variety of classes, including choreography, floor work, chair and heels, as well as contemporary dance and handstand training. In a progressive class series, patrons attend classes at the same time each week with the same cohort of students as they progress from beginner to intermediate and advanced classes.

"The energy at the Pole Garage is contagious," said Drea Roers. "Our instructors and clientele are supportive and encouraging, whether new to pole dancing and fitness or experienced dancers. You will hear our laughter echoing through the hallway as we are sweating, supporting each other and having fun."

Parking: Small dedicated lot
Price: From $30 for an individual class to $100 for a five-class package
Come for: The chance to experience Santa Monica's sole pole dance studio
Stay for: Drea's maternal, warm demeanor and energy
More Info
Romance and Dance, Inglewood campus
Inglewood
Pole dance studio
$
Philesia Manuel, the owner and operator of three Romance and Dance pole aerobics studios, started her pole journey in 2007 from her garage.

"I was in charge of my friend's bachelorette party and surprised her with a pole party," she said. "That was the day I told my husband, 'I want to be a stripper!' He said, 'Girl, please, not with these three kids you don't.'"

He compromised by putting up a pole in their garage. "All my friends would come over and play on the pole every weekend," Manuel said. One day, her husband came home and told her he'd been laid off from work. "I told him, 'No worries, let's turn the garage into a pole studio.'

"Everyone thought I was trying to open a strip club," she said. "I had to explain to everyone it was not a strip club, it was the sexy new way to get in shape."

Not long after opening its flagship Carson studio, Romance and Dance expanded to a second location in Rancho Cucamonga, and more recently the Inglewood campus. In addition to pole offerings (including twerk, ab work and cardio, aerial hoop, striptease, step, chair and burlesque classes), Manuel, who uses the stage name Phee, also launched a nonprofit called Phee-Nomenal Women that serves women with depression or suffering mental, physical and verbal abuse by offering companionship through fitness and dance therapy.

Today, Romance and Dance has more than 2,500 members, making it a juggernaut in the L.A. pole dance scene. Stars including Ray J, Vanessa Simmons, Kyla Pratt, LisaRaye and Fonzworth Bentley have stopped by for instruction.

"We help you work on your inner self," Manuel said. "Anyone can teach you a pole trick but not everyone will treat you the way we do."

Parking: Dedicated parking lot
Price: $29 for an individual class
Come for: The Romance and Dance experience. The studio's name is one you'll hear frequently among avid polers.
Stay for: A while and walk the stage in your own pole dancing graduation, held semi-annually
More Info
Sabbath Circle
Pico-Union
Pole dance studio
$$
Sabbath Circle, owned by Emmeline Kim, was founded in 2020. The spacious, light-filled studio takes its witchy aesthetic to heart with a bookshelf stocked with esoteric literature in the lobby, tarot-themed art on the walls and a special bimonthly evening class, known as moon circle.

"Everyone is accepting of the coven ways we do things here," said Kim. "The mission is to have a safe space for growth and playtime. Women and the LGBTQ community deserve places where they are welcome no matter what. Sometimes you just want to truly be yourself, in good lighting."

With just seven poles, the studio's smaller classes have more individual attention. "We have so many styles of dance and movement," said Kim. "Each instructor has their own individual spiritual connection and deep history with feeling and flowing through dance."

In less than three years of operation, the studio has expanded to include — in addition to pole offerings such as choreography and tricks classes — chair dance and aerial arts classes featuring silks and lyra hoops. FKA twigs has been a patron here. Twice a year Sabbath hosts a showcase where instructors, students and friends of the studio perform.

"It's a constant thing to develop real passion for anything," said Kim. "I know the folks that come here find a spiritual connection to their practice. Pole is life."

Kim, who has some directing experience, including an indie film and music videos for artists including Duckwrth and Free Nationals, is developing a short film based on pole dance through the studio's in-house photo and video services.

Parking: Dedicated parking lot
Price: $35 for an individual class
Come for: The studio's esoteric speakeasy vibes (it's located atop a nondescript warehouse space)
Stay for: Bimonthly workshops, pole jams, performances and secret classes
More Info
Secret Pole Dance Studio
Culver City
Pole dance studio
$
This clublike studio, with dark walls and strobe lights, has been in operation for 13 years and recently expanded to a second location in the Inland Empire.

The owner, who uses the stage name Diamond, said Secret focuses on confidence-building through movement, cultivating sexiness and the art of seduction.

"One of our main goals as a studio is to remain inclusive of all figures, showcasing strength in different forms," said Diamond. "It's important for our students to understand that pole does not have a specific look, nor will it ever."

Diamond says she was inspired to open the studio to combat size discrimination in the dance community. "I noticed a trend in the dance world of thicker women being body-shamed and made to feel weak," she said. "It was then that I decided to instruct and eventually to open my own studio. I've always been a thicker woman, so my immediate objective was to ensure that my studio catered to all. Beauty and strength is not a singular ideal."

The 2,000-square-foot studio has hosted a discreet clientele of celebrities and been featured on reality TV series like "Love & Hip Hop" and "Bad Girls Club." Class offerings include strength and conditioning training, stretch classes, twerk cardio fitness, chair dance and floor work classes. Both choreography and tricks classes, which are offered in three different rooms, emphasize musicality and sensual dance.

In addition to holiday events and paint-and-sip parties, the studio also hosts three student showcases every year and yearly recitals featuring group routines.

Parking: Dedicated parking lot
Price: From $30 for an individual class to $100 for a four-class package
Come for: The studio's new student specials, which feature package deals offering classes for as little as $10 each
Stay for: Instructor Kam Poles' tricks classes
More Info