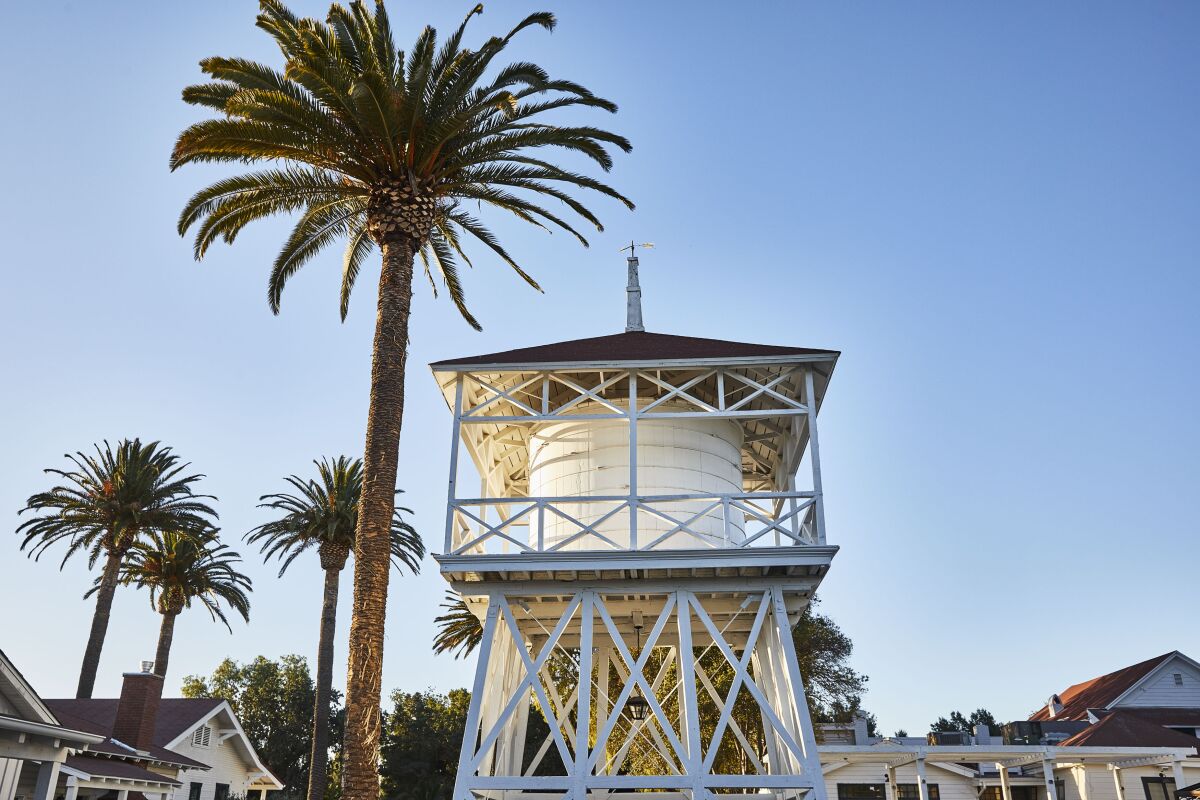 14 things to do in Los Olivos, the magical country town filled with wine and lavender blooms
At the Inn at Mattei's Tavern, with its wooden floors from the late 1880s, western-themed oil paintings and plaques bearing the names of the historic ranches in the Santa Ynez Valley, you feel as if you've landed in another time. That is, until you see someone grab their iPhone 14 Pro to snap a photo of the picturesque Los Olivos landmark.
The renovation and preservation of the heirloom property, once a 19th century stagecoach stop, was completed this year after the Auberge Resorts Collection acquired it in 2020. Set on 6½ acres of land that houses the town's iconic water tower, this new version of Mattei's comes in the form of a buzzy five-star resort. But the owners' mission is to stay "true to the heritage" of the iconic destination.
Blending old and new has been a theme in Los Olivos, a charming town just two hours north of Los Angeles that's known for its vineyards, lavender farms, orchards and horse trails. You'll find a vintage gas pump outside the Los Olivos General Store, a carefully curated shop selling locally made lavender body wash and blood orange olive oil. At Olive + Lavender Farms, a modern and tranquil farm where you can stop for an olive oil tasting, there's a 100-year-old stone wall, a remnant of the site's former life as a blacksmith shop for the stagecoaches. And while visiting one of the more than 30 wine tasting rooms in town, you'll encounter city slickers enjoying sips next to longtime locals.
Los Olivos was established in 1861 as a spot on the stagecoach route from San Francisco to just south of town in Ballard, then continuing through L.A. to San Diego. In 1885, Alden March Boyd, a 22-year-old from New York, bought 157 acres here for $8,000, built a house and planted 5,000 olive trees, naming the property Rancho de los Olivos. Eventually the town became known as Los Olivos.
In anticipation of the Pacific Coast Railway station opening, entrepreneur Felix Mattei bought the land adjacent to the station in 1885 to build Mattei's Central Hotel, known to locals as Mattei's Tavern. The restaurant and rooms became a focal point of an area popular for ranch and farm activities, hayrides and horseback riding, as well as picnics and swimming in the rivers and lakes.
Over the years, Hollywood has found inspiration and evocative locations for television shows and films in Los Olivos. A section of Grand Avenue, right in the center of town, was the town square in the made-for-TV movie "Return to Mayberry," based on "The Andy Griffith Show."
Alexander Payne's iconic 2004 dark comedy "Sideways," set in the valley, included the scene we all wish we could unsee — when Miles, played by Paul Giamatti, drinks the spit bucket at Fess Parker Winery Frass Canyon. A dinner scene shot at the Los Olivos Wine Merchant & Cafe, still popular today, culminates in a scene outside in which Miles shouts, "If anyone orders Merlot I'm leaving…" — a statement that has haunted leagues of Merlot winemakers ever since.
Tasting rooms, charming independent shops and cozy restaurants are all easily walkable from the central intersection at Grand and Alamo Pintado avenues. Make use of the town's historic walking tour, with highlights that range from the Berean Baptist Church built in 1894 to the Los Olivos General Store from 1903, which was also the first Ford dealership in the valley and a gas station. (It was used as Goober's Garage during the filming of "Return to Mayberry.")
You may spot a local, perhaps Jackie Schafer riding her horse, Dylan, down Grand Avenue. When asked if she'd ridden into town for a sandwich, she replies, "Yes!" And when asked if she shops at Jedlicka's Saddlery down the block, she replies, "Of course! Visitors buy hats and boots. We buy those too, and all of the other things." Dylan leans over for a pat on the nose.
This is a land where winemaking tradition and innovation exist side by side, with newer local businesses tucked among the old and where proprietors might live down the block or over the next idyllic hilltop. The hillsides are covered with colorful wildflowers in spring, making it look like buckets of paint have been artfully splashed among the meadows and trees. Think Mayberry meets "Avatar's" Pandora: a quaint town set in a valley so beautiful it's almost otherworldly.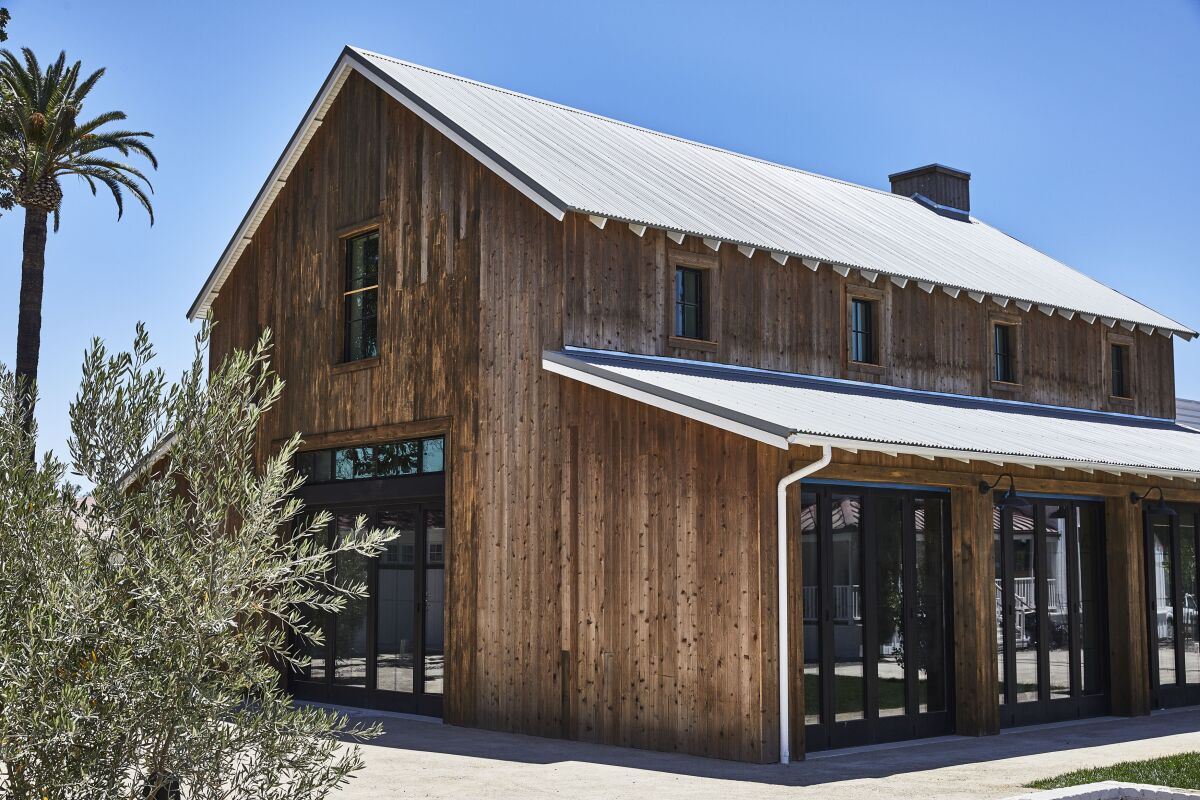 The Inn at Mattei's Tavern
Santa Barbara County
Lodging
As you approach the Inn at Mattei's Tavern, you'll see four historic palm trees. "They were originally planted so that when people were traveling on horseback, they could identify where the tavern was," explains the Tavern's general manager Dave Elcon.
The recent restoration of the property transformed the tavern and its additional buildings into luxurious ranch-style accommodations. The reopening also added 63 guest suites to the original four cottages, which were built in the early 1900s, shortly after the tavern was built.
The decor is all about comfortable luxury, featuring an earth-toned palette and filled with light. Guests are greeted at the door to their rooms with classic wooden bootjacks to help them take off the western boots many people wear in the area. In addition to the tavern, there are multiple food and beverage options throughout the property, including an event space, elegant pool area, expansive gym and spa, all walking distance to the town of Los Olivos, and easily accessible to wine tasting and winery visits and other activities in the valley.
One of the original buildings is now known as the Farmhouse; it had a front porch added to set the tone for a warm welcome. Inside, you'll find the hotel reception area and a shop curated by the home and lifestyle brand
Santa Ynez General
. The original water tower also was restored and now has a chef's garden next to it named for Felix Mattei's wife, Lucy.
On a recent Sunday morning, the property was abuzz with activity, with visitors and locals stopping by Felix Feed & Coffee to sip coffee in a sun-dappled room and enjoy house-made pastries, toasts or a breakfast sandwich with apple mostarda on a buttermilk biscuit. Meanwhile, out the window, the view was pure peace: a field of wild grasses, freshly purified by the recent rains in the Santa Ynez Valley.
More Info
Fess Parker Wine Country Inn
Santa Barbara County
Lodging
In 1988, actor Fess Parker, known for playing Daniel Boone and Davy Crockett on TV, purchased Foxen Canyon Ranch, with its 700-plus acres of land. The King of the Wild Frontier became known as the King of the Wine Frontier and established himself as an exemplary winemaker.

Parker opened the Inn in Los Olivos in 1998; before his death in 2010, he'd lead weekly sing-alongs with his wife, Marcella, in the lounge. His family now runs the property, which consists of 14 elegant guest rooms and five suites spread across two buildings on both sides of Grand Avenue, with rooms (complete with fireplaces) around and above Nella Kitchen & Bar and across the street by Jedlicka's Saddlery.

The Inn offers guests complimentary tastings of its award-winning wines at the newly renovated Epiphany tasting room two blocks away; the space is filled with vibrant amber furniture and also has a garden patio. If you choose to stay at the Inn, you'll be conveniently located near all of the wine tasting rooms, shops and restaurants in Los Olivos. Behind the Epiphany tasting room are two cabins, set up for families and those traveling with pets, with the tongue-in-cheek names World Headquarters and Chateau Relaxeau.
More Info
Bar Le Côte
Santa Barbara County
Seafood Restaurant
When you mention you're planning a trip to the Santa Ynez Valley, many will ask, "Did you get a reservation at Bell's in Los Alamos?" Bell's is certainly worth the 12-mile drive. But if you want to stick to Los Olivos you can't go wrong having lunch or dinner at seafood darling Bar Le Côte, which was opened by the Bell's team, including executive chef Brad Mathews, part of the Companion Hospitality group with co-owners Greg and Daisy Ryan. Co-owner Helvey Design Studio designed the space, where art by Jon Flaming complements pops of vibrant green in the dining area.

Mathews developed a menu inspired by California seafood and produce with influences from Spanish and European coastal cuisines. "My favorite dishes to make are the crudos," he says, taking a break from the bustling open kitchen. "I am excited by the simplicity and nuances of the ingredients." His current iteration of this raw dish pairs dry-aged yellowtail with local turnips, seaweed cream and bottarga.

"I love this community and the energy people bring into the space. When it's Friday night and the music is bumping … everyone is smiling. It feels like a high school dance," says Mathews. For all of the focus on seafood, he also feels a special affinity for the fried chicken sandwich on the lunch menu. It's a craveable, crispy creation with jardiniere, house-made tartar sauce, boquerones and pickled peppers on brioche.

Bar Le Côte is in the Santa Ynez Valley, of course, so the wine list not only complements the food but also offers some exclusives. Local winemakers have collaborated with the restaurant to create four special bottlings: a Santa Maria Valley Melon "Blanc de BLC" by Justin Willett of Tyler Winery; Los Olivos "BLC" Orange by Solminer Wine Co.; "BLC" 2021, a Santa Ynez "BLC" Mourvèdre by Carhartt Family Wines; and a Santa Barbara County Sauvignon Blanc by Storm Wines called "Cocktail."
More Info
Nella Kitchen & Bar
Santa Barbara County
Italian cuisine
At the Fess Parker Wine Country Inn, the restaurant Nella Kitchen & Bar comes from the team that created local Italian favorite S.Y. Kitchen (also worth a visit). The Nella menu features a Roman style of pizza called pinsas with hand-pressed soft dough that is baked to be both tender and crispy. Locals recommend the Bianca, made with caramelized onions and fior di latte, Parmigiano and challerhocker cheeses. Pay attention to the specials with seasonal ingredients too: A recent offering layered with lean soppressata and local green olives paired nicely with a pinot noir from the winery.

At the cocktail bar, Chris Hewes shakes and stirs classics and his own daily creations. Don't be surprised to see an occasional sour gummy worm in your drink. Despite his years of experience in some of the best bars, Hewes' "I don't want anyone to think I am taking it too seriously" attitude fits the relaxed atmosphere.

During recent storms when several other restaurants had to close, locals and visitors gathered in this space, which was warm and cozy from the glow of the fireplace and the lively conversation about food, wine, farming and, of course, the weather.
More Info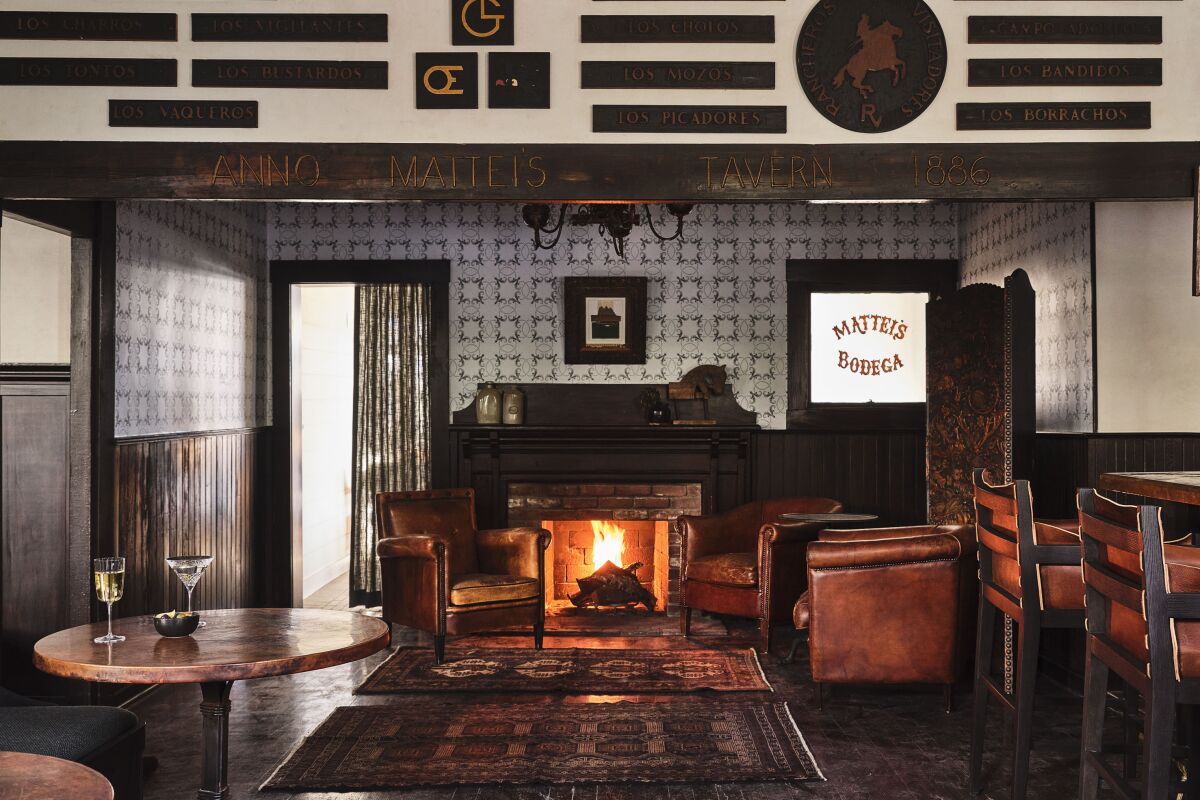 The Tavern, Bar and Lounge at Mattei's Tavern
Santa Barbara County
Californian
Felix Mattei's original vision of the tavern was not just a culinary destination but also a place for people to gather. And it still feels like exactly that, even if the kitchen is now helmed by chef Rhoda Magbitang, formerly of Petit Ermitage and Chateau Marmont in Los Angeles.

Take a seat at the bar, where neighbors greet each other next to hotel guests wearing western boots, and order a locally made pinot noir or an Old Gus Berg. The bartenders make this old-fashioned craft cocktail, named for Felix Mattei's right-hand man, with Russell's Reserve single-barrel bourbon, pinot noir, Demerara and house Stagecoach bitters.

On the bar menu, don't miss the toast with Santa Barbara uni caught by local fisherman Stephanie Mutz of Sea Stephanie Fish. Magbitang layers the uni onto a Catalonian-style pan de cristal with lardo and bacon jam. Hiramas crudo bathes in leche de tigre and chorizo oil and delicate roe tops the smoked trout rillettes. The wild boar chili is made with heirloom beans and chive jalapeno cornbread.

In the tavern, try Magbitang's ajo blanco, or almond gazpacho, with crab and apple, or her gorgeous California version of a salad Niçoise with olive oil-poached salmon. (She adds crunchy watermelon radishes and Persian cucumbers to colorful potatoes, haricot vert and local green olives.) The menu also features meat in the form of smoked tri-tip sandwiches at lunch and a tavern strip steak with potatoes and onion rings at dinner. These dishes showcase the local products from ranchers and farmers including Motley Crew and Finley Farms, eggs from SZ Ranch in Cuyama and Bob's Well Bread.
More Info
The Other Room
You may know the
Backroom
in nearby Solvang, which transformed into a members-only bar in 2020. Walk through the craft beer and wine shop owned by Chris Kelly and Sandy Harrison of
Valley Brewers
homebrew and winemaking supply, and push the bookcase to hang out with locals who know where to get a good beer. (The bar will charge you a nominal price of $5 to be a member for a day.)
Now Kelly and Harrison have teamed up with Greg and Daisy Ryan (of Bar Le Côte) to open a beer bar in Los Olivos, which they've affectionately named the Other Room. In a town where most of the wine tasting rooms close at 5 p.m., this small, minimalist beer bar, which stays open till 7 or 8 p.m. most nights, creates space for locals to gather after work and transitions from pouring and drinking wine by day to a relaxing afternoon and evening spot to enjoy a beer, with a series of taps chosen by experts and a focus on California breweries.
Look for a Belgian-style tripel from Third Window in Santa Barbara and an oatmeal stout by There Does Not Exist in San Luis Obispo. Another recent winner is a sour wild ale with marionberries by Firestone Walker Barrelworks in nearby Buellton. The taps and choices change with availability and offer a balance of beer styles, so there's something for everyone.
At a recent event, the Other Room was bustling with excitement. They had presold 65 tickets for a taste of
Pliny the Younger
, highly sought-after golden goodness that's released once a year.
When Greg Ryan is asked about his preferred beverage, he says, "I drink what is referred to as dad beer, the low ABV ones."
Peckish too? Snacks are delicious, with a focus on the crunchy, beer-friendly variety. There's also a small assortment of wine bottles to buy and take home, and a few available in-house too.
More Info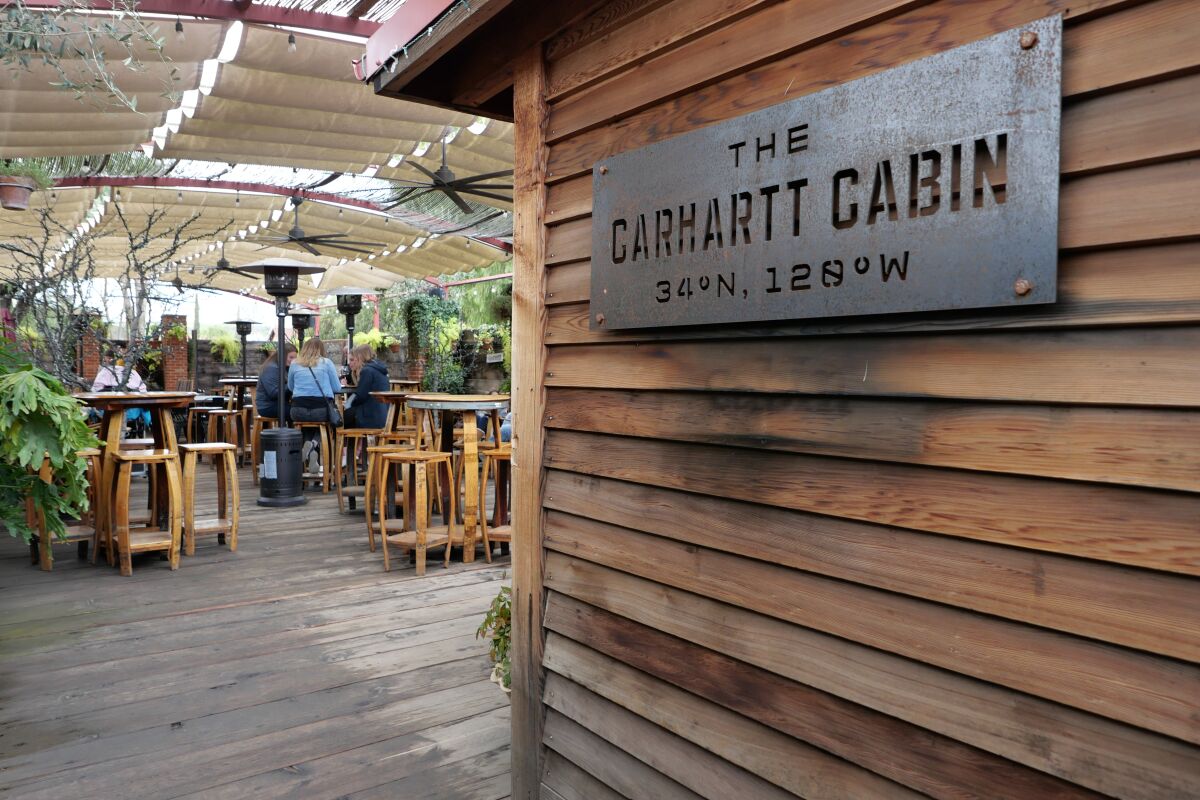 Carhartt Family Wines
Santa Barbara County
Winery
The Carhartt family set up their tasting room,
the Carhartt Cabin
, in a rustic building that was originally built for a doctor. (If that family name looks familiar, yes, it's the same Carhartt as the popular workwear brand, its clothes a ubiquitous "uniform" in the valley — though that company is run by another family member.) The locals call this spot their "Cheers"; they'll often find their neighbors and colleagues hanging out here. Not to mention the family makes some of the best estate wines and innovative varietal bottlings in the area.
The Carhartt family bought their ranch in the 1950s. It's where Mike — who runs Carhartt Family Wines with his wife, Brooke, and their son, Chase — grew up raising horses and cattle as a kid. In 1996, he and Brooke planted a vineyard on the property. Along with Chase, the couple make more than 30 estate bottles and a series of wines called Venture, inspired by Chase's global travels.
Formerly known as Carhartt Winery, Carhartt Family Wines celebrates the traditional estate winemaking styles with library-book themed labels. Currently the winery is featuring both a 2019 Estate Cabernet Franc and a 2018 bottle for its Venture collection called Equilibrio, with Sangiovese and Montepulciano grapes.
Food trucks and independent culinary companies set up in front of the tasting room and on the back patio, where musicians join in the fun.
When asked for his favorite local food and wine pairing, Chase recommends Carhartt's 2019 Mourvèdrewith a Priedite Bandito burger, available on Sundays at the Priediete Barbecue pop-up behind Bell's in Los Alamos.
Aside from the tasting room, Carhartt Family Wine's Rancho Santa Ynez Estate is available for
tours
and tastings by appointment and hosts events throughout the year.
More Info
Stolpman Vineyards and So Fresh
Santa Barbara County
Winery
The Stolpman estate's tasting room sits next to the owners' ultra-contemporary, fun and funky
So Fresh tasting room
at the
Fresh Garage
and patio. Go classic and try the estate Hair of the Bear 2020, made with Petite Sirah grapes and Viognier 2021.
Stolpman wines added the So Fresh Garage next door in 2020, in a structure that was originally built in 1890. Here the focus is on fun, chillable wines made with grapes that are fermented whole and uncrushed. They harvest these grapes early for lighter mouthfeel and higher acidity, bottling early to capture a more delicate fresh profile made without added sulfur.
All of the bottle designs feature handwriting by manager Ruben Solorzano; bottles have names like Love You Bunches, Crunchy Roastie and Syrah So Hot. Though the wines are high quality, the team don't take themselves too seriously, making the wine tasting experience approachable and fun.
This multigenerational Santa Ynez family has made a big commitment to how they run their winemaking operations. Stolpman employees have secure, full-time employment. The company also has created a program in which it shares a section of the vineyard, or "cuadra," with workers to grow grapes and make their own wine, a line called La Cuadrilla, with the profits returned to them. The label displays an image of Maria Solorzano, the patrona of the vineyard, who trusts the women of the crew with the most meticulous, detailed tasks in the vineyard.
Be sure to snap a photo under the "Love You Bunches" wall in the front patio as a memento of your trip. You can find Stolpman wines in Los Angeles restaurants including the Rose, Providence and Redbird.
More Info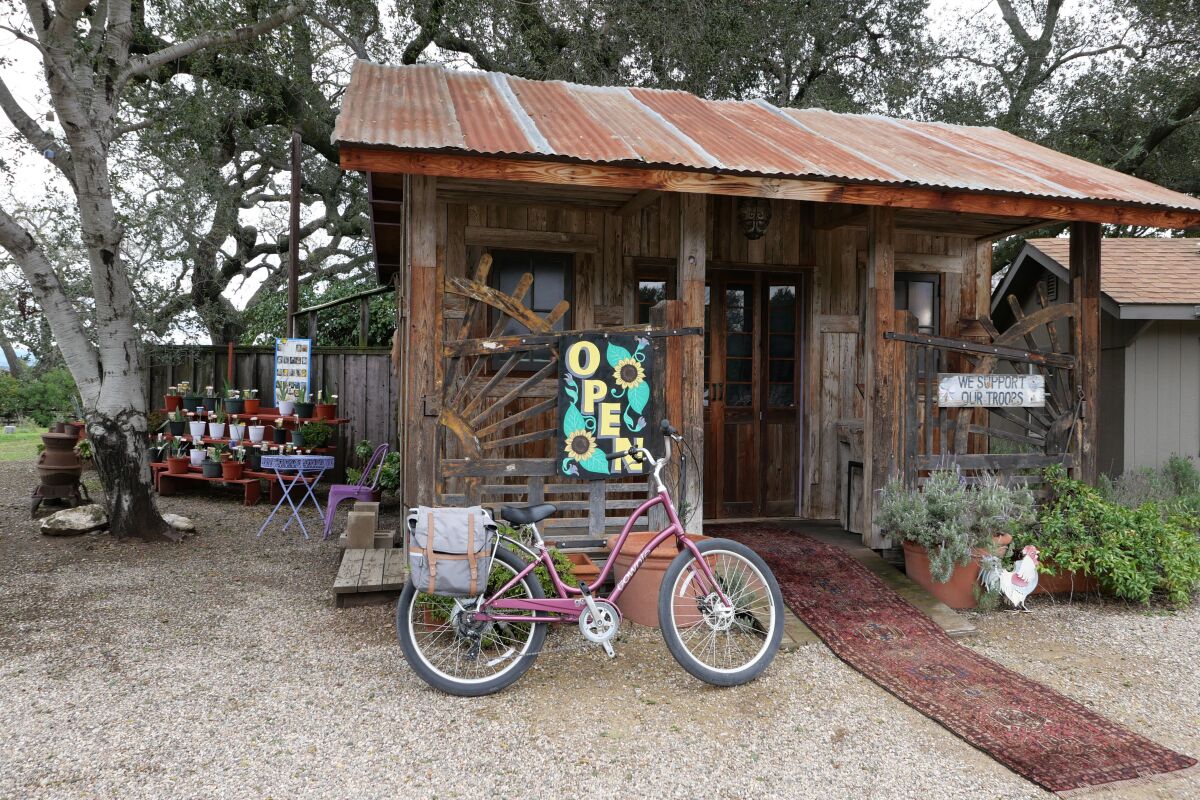 Clairmont Farms Lavender
Santa Barbara County
Family Farm
Enter through the gates of Clairmont Farms and head down the idyllic, olive tree-lined driveway to experience a family-owned lavender farm that grows the original Grosso variety of this fragrant flower.

Owners Meryl Ann Tanz and Sean Everett Crowder have planted fields of lavender alongside their gardens, picnic areas and a small shop filled with scented products. This is the place to take advantage of essential springtime photo ops surrounded by blossoms.

Not only do lavender plants look pretty and give off a distinctive floral, herbal and woodsy aroma, they have aromatherapy and homeopathic benefits, from reducing anxiety and aiding in sleep to migraine headache relief and, for some, boosting memory recall and productivity. Lavender aromatherapy and beauty products and culinary items including scone mix, teas, honey and even lavender-scented goodies for your pooch are available for sale.

Take a break to sit in the cute purple Adirondack chairs near the rows of lavender; you might get a chance to watch one of the many artists who come to draw and paint in this dreamy setting.
More Info
Lefty's Coffee Co.
Santa Barbara County
Coffeehouse
On San Marco Avenue, look for the square wood sign that says Lefty's Coffee Co. Once inside, you will find a Slayer espresso machine on the bar ready to go for cortados, flat whites and lattes. Baristas pull espresso shots and brewed coffee with organic beans sourced and roasted by Carrie Nelson and Dennis Medina of Valley Heart Ranch and Coastal Coffee Collective in Santa Barbara. Also on the menu are organic teas and seasonal cold-pressed juices; if you're hungry, nibble on baked goods and house-made granola.
Named for one of owners Laura Newman and Jim Tauber's adorable corgis, Lefty's Coffee Co. also refers to their clear commitment to creating an inclusive space and speaking up for civil rights. Their goal was to create a warm and inviting cafe with good coffee to foster a sense of community; they share their beliefs about progressive causes and host open-mic nights. Inside the cafe, you will find a wall of colorful portrait paintings of women and a donation bookstore with sales benefiting such organizations as
Brave Trails
, which is dedicated to building leadership opportunities for the LGBTQ+ community.
Don't miss the lush, shaded, dog-friendly back patio with several wood picnic tables. People and their pups from the neighborhood and all around the Santa Ynez Valley love Lefty's.
More Info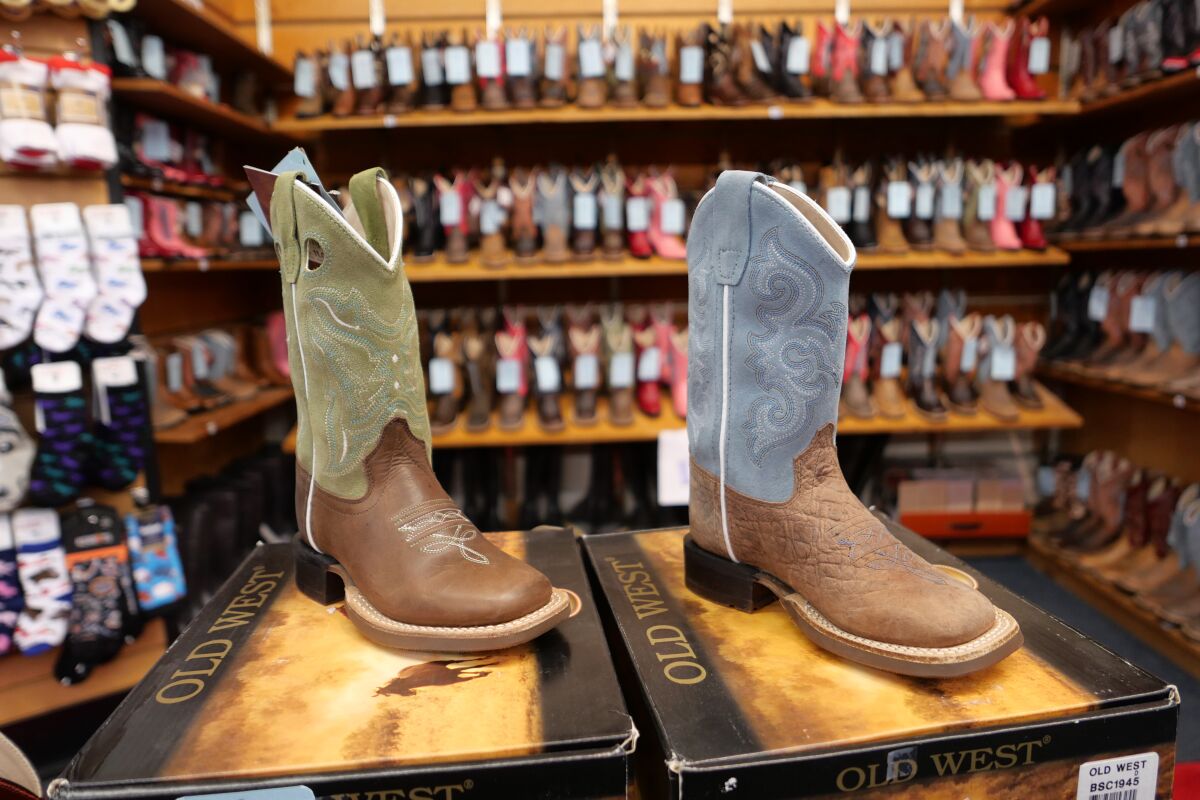 Jedlicka's Saddlery
Santa Barbara County
Clothing store
Opened by George "Jed" Jedlicka in 1932, this shop started out as a bootmaking and shoe repair shop, eventually adding clothes, horse supplies and more. Jedlicka's Saddlery has been a staple in Los Olivos ever since.
Inside you'll find several racks of western gear and workwear, shelves of boots, belts and buckles, and rows of riding accessories and tack room supplies. Wrangler, Levi's and, of course, Carhartt are the uniform here. A pile of cozy wool Pendleton blankets looks inviting for picnics and chilly valley nights. A selection of ranch-themed gifts for adults and children's toys round out the collection. Cowboy boot earrings in a western hat–shaped jewelry box might be just the birthday gift you never knew you needed to buy.
If a lap around the shop gets you in the mood to see the valley on horseback, book a private riding experience with
Vino Vaqueros
. Pick out a Stetson hat at Jedlicka's and head out for your Santa Ynez equestrian adventures.
More Info
Global Eye Shop & Studio
"Have you been to Global Eye?" may have been one of the questions I got the most in the area. More than a few locals wanted to make sure their favorite Los Olivos shop was on the not-to-be missed list.

One step inside the front door and it's clear that Global Eye could be dangerous to the pocketbook. Gorgeous ceramics await you at every turn, many of them the handiwork of owner Kristin Cramer. Cramer's ceramic works feature tall candlesticks with hand-formed birds, work inspired by her travels in Brazil. She intersperses her family heirlooms with linens, carved wood, greeting cards and a small curated selection of casual apparel in this utterly romantic shop.

The work of local artists and artisans is featured throughout, with hand-turned wood bowls with live bark edges by Gabriel Bustamante from Lompoc, faux bois porcelain cups with glossy aqua blue interior glazes by Scott Chatenever of Ojai and jewelry by Jordan Moon of Ballard. The back patio is set up with more ceramics, baskets, glassware and textiles. There are even vintage typewriters for sale, and one that Cramer uses to type notes to the staff.
More Info
Pedego Electric Bikes
Santa Barbara County
Bike
In a small parking lot on San Marcos Avenue, Pedego electric bikes are available for rent for $45 for two hours, or up to $189 for fully guided experiences. Manager Sam Masson, who grew up in the valley and has been cycling these roads for decades, is at the ready with bikes, helmets and maps for self-guided tours around the valley as well.
Pedego also offers the option to sign up for its
Ultimate Day Trip
guided tours, a 15-mile loop among vineyards and towns. Whether pedaling or coasting along on electric power, seeing the valley with the wind tickling your cheeks is exhilarating.
Ride the Dan Henry Bike Path, named for the local bicycling innovator and cycling legend, who died in 2012 at 98. He was known for riding a tandem bike with his wife, Trudy, and handing out poetry about the joys of cycling. Sam Masson met Henry when he was a kid and can relay firsthand stories about their love for cycling in Los Olivos and beyond.
Cruise over to local wineries, farm stands, the lavender farm and back into town before returning your rental and contemplating adding an e-bike to your holiday wish list. (Pedego offers bikes for sale too.)
Don't miss wine tasting at
Storm Wines
next door after you drop off your bike, and check out the dreamy tasting room for
Dreamcote Wine Co.
, maker of hard ciders and low-alcohol wines, just across the street.
More Info
Olive Hill Farm
Santa Barbara County
Family Farm
When you're in a town named for the olive trees originally planted there, it seems fitting — maybe even required — to try some of the oil from the region. Take advantage of an olive oil tasting at Olive Hill, conveniently located in the middle of town. Tastings, which cost $5, come with a choice of five of the classic and flavored varieties, like basil or jalapeño, and several balsamic vinegars too. Sip from the small cup they give you, or tear off a piece of the fresh bread provided to dip and nibble. If you love what you taste, there are bottles available to purchase and take home.
Family-owned since 2003, Olive Hill had its first harvest in 2005, producing its signature medium-bodied 100% Lucca olive oil using hand-picked Italian olives and traditional Tuscan techniques. Its Figueroa Mountain Road extra virgin olive oil, crafted from a blend of Arbequina, Maurino, Frantoio, Leccino and Pendolino olives grown locally, tastes buttery, soft and delicate with a bit of spice on the finish. For flavored oils, they mix in fruit, vegetables and spices at the time of pressing.
Don't miss
Dafoe Wines
next door; try the 2021 Switchblade skin-fermented white blend of local Grenache Blanc and Viognier crushed by foot and fermented with whole clusters. For more olive oil tasting, head to the
Rancho Olivos
farmstand, a short drive or bike ride from the center of town.
More Info