Turkey is holding a momentous election this weekend. Here's what's at stake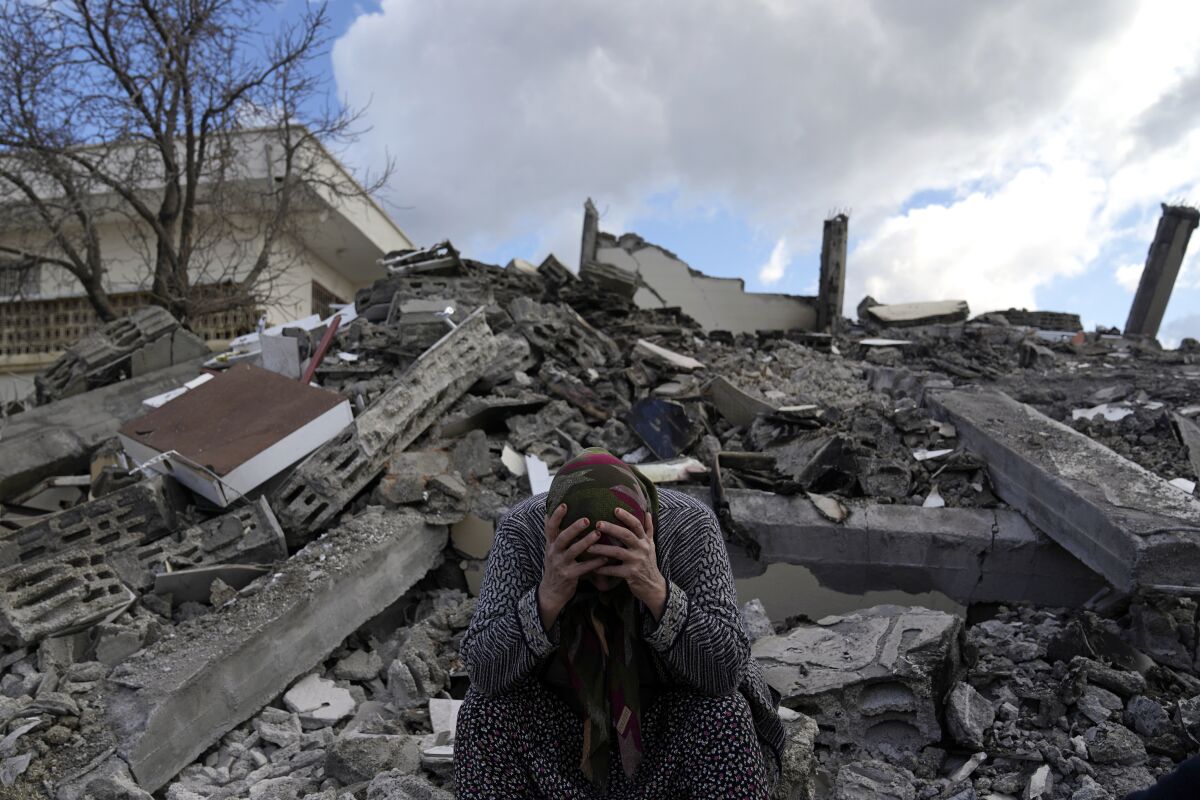 ANKARA, Turkey —
Turkish President Recep Tayyip Erdogan has parlayed his country's NATO membership and location straddling Europe and the Middle East into international influence during two decades in power. Like other world leaders with global ambitions, he finds his tenure imperiled by matters closer to home.
Turkey's presidential and parliamentary elections Sunday are taking place amid rampant inflation and months after a catastrophic earthquake killed more than 50,000 people in the country's south. The government has come under criticism for mismanaging the economy and failing to prepare the quake-prone nation for February's natural disaster.
Polls show Erdogan facing the toughest reelection race of his career. A six-party opposition alliance has united behind the candidacy of Kemal Kilicdaroglu, leader of the social-democratic Republican People's Party, promising to undo democratic backsliding, repatriate Syrian refugees and to promote the rights of Turkish women.
Here's a look at the main domestic issues shaping the election, and where Erdogan and his challenger stand:
Erdogan's economics
Contrary to the mainstream economic theory of interest rate increases helping to keep consumer prices in check, Erdogan maintains that high borrowing rates cause inflation. The Central Bank of the Republic of Turkey, under pressure from the president, repeatedly slashed interest rates to boost growth and exports.
Instead, the value of the Turkish lira nosedived, and the rate cuts exacerbated a cost-of-living crisis. Inflation peaked at 85% in October. The official April figure was 44%, although independent groups say they think the actual rate is much higher.
As Turkey readies to vote, complaints are growing about the election's fairness under President Recep Tayyip Erdogan, who is running for another term.
To offset the impacts of inflation and win back votes, Erdogan has engaged in a public spending spree ahead of the elections, increasing the minimum wage and pension payments.
The opposition alliance has promised to restore the central bank's independence and a return to orthodox economic policies if Kilicdaroglu becomes president.
Erdogan reportedly has asked Mehmet Simsek, his internationally respected former finance minister, to return to the position, a sign that a new government may embrace more orthodox policies if the Turkish leader wins a third presidential term.
Recovering from disaster
Turkey is grappling with a difficult recovery from February's magnitude 7.8 earthquake, the deadliest temblor in the country's modern history. It destroyed or damaged more than 300,000 buildings. Hundreds of thousands of residents are sheltering in temporary accommodations, including tents. Some 658,000 people were left jobless, according to the International Labor Organization.
The World Bank estimates that the earthquake caused $34.2 billion in "direct damages" — an amount equivalent to 4% of Turkey's 2021 gross domestic product. The recovery and reconstruction costs could add up to twice that much, the international financial institution said.
Erdogan's government, meanwhile, has been accused of setting the stage for the devastation with lax building code enforcement. Some people left homeless or struggling to earn money also found the government's earthquake response to be slow.
Much like Los Angeles, Istanbul is facing a double crisis — a severe housing shortage and extreme earthquake risk — leaving residents in a bind.
The Turkish leader has centered his election campaign on rebuilding the 11 worst-hit provinces. Erdogan has pledged to construct 319,000 homes within the year and attended a number of groundbreaking ceremonies, trying to convince voters that only he can rebuild lives and businesses.
Kilicdaroglu says his government would give houses to quake victims for free instead of the 20-year repayment plan envisaged by Erdogan's government.
Refugees no longer so welcome
Refugees, especially those fleeing civil war in neighboring Syria, were once greeted with open arms in Turkey, but anti-migrant sentiment is on the rise amid the economic downturn. A shortage of housing and shelters in the quake-hit provinces has increased calls for Syrian refugees to go home.
The Kilicdaroglu-led opposition alliance and other opposition parties have vowed to repatriate Syrians within two years. Kilicdaroglu says he will seek European Union funds to build homes, schools, hospitals and roads in Syria and encourage Turkish entrepreneurs to open factories and other businesses there.
Under mounting public pressure, Erdogan's government has begun constructing thousands of brick homes in Turkish-controlled areas of northern Syria to encourage voluntary returns. His government is also seeking a reconciliation with Syrian President Bashar Assad to ensure their safe return.
Officials say there are some 5 million migrants and refugees in Turkey, including around 3.7 million Syrians and 300,000 Afghans, but anti-migrant parties say the figure is closer to 13 million.
A more democratic Turkey?
The coalition of six opposition parties has declared a commitment to restore Turkey as a parliamentary democracy and to give citizens greater rights and freedoms should their alliance win the elections.
Erdogan succeeded in getting a presidential system of governance narrowly approved by referendum in 2017 and introduced in 2018. The new system abolished the office of the prime minister and concentrated a vast amount of powers in the hands of the president.
Since last week's earthquake, refugees of Syria's civil war living in Turkey have faced growing anger from those who see them as a burden and blight.
The alliance has outlined plans for a greater separation of powers, including an increased role for parliament and an independent judiciary.
Kilicdaroglu has also promised to do away with a law that makes insulting the president a criminal offense punishable by prison time. He also has pledged to free former pro-Kurdish party co-chair Selahattin Demirtas and philanthropist businessman and human rights activist Osman Kavala from prison.
The six parties have also promised to abide by decisions of the European Court of Human Rights, which has called for Demirtas and Kavala's release.
Will the election affect women's and LGBTQ+ rights?
Seeking to widen his support from voters, Erdogan has expanded his own political alliance of two nationalist parties to include a small Islamist party and also secured the backing of a radical Kurdish-Islamist party.
The parties newly recruited into Erdogan's camp have Islamist agendas, which have raised fears about the future of women's rights in Turkey. They want to scrap laws on alimony and domestic violence protection, arguing that they encourage women to leave their husbands and threaten traditional family values.
Erdogan already has removed Turkey from a European convention that aims to prevent domestic violence — a nod to religious groups that claimed the treaty encourages divorce and LGBTQ+ rights. Pandering to his pious and conservative supporters, Erdogan and other members of his ruling party have called LGBTQ+ individuals "deviants."
Sharpen your umlauts: Turkey is now Türkiye, at least in many U.S. documents.
The Kilicdaroglu-led alliance has vowed to rejoin the European treaty and to uphold the rights of women and minority communities. Kilicdaroglu has also reached out to conservative women, assuring them that they will be able to continue wearing Islamic-style headscarves that were once banned in schools and government offices under Turkey's secular laws.
What about foreign policy?
The opposition alliance has signaled that it would pursue a more Western-oriented foreign policy and seek to rebuild ties with the United States, the European Union and NATO allies.
The opposition says it would work for Turkey's reinstatement to the U.S.-led F-35 fighter jet program, from which the country was ousted following the Erdogan government's purchase of a Russian-made air-defense system.
At the same time, a government led by the parties trying to oust Erdogan would be expected to try to balance Turkey's economic ties with Russia.
An opposition win also could result in Turkey ending its veto of Sweden's request to join NATO. Erdogan's government has blocked Sweden's accession into the alliance, pressing the country to crackdown on Kurdish militants and other groups that Turkey regards as terrorist threats.