Passenger opens emergency exit during flight in South Korea, causing panic and injuring 12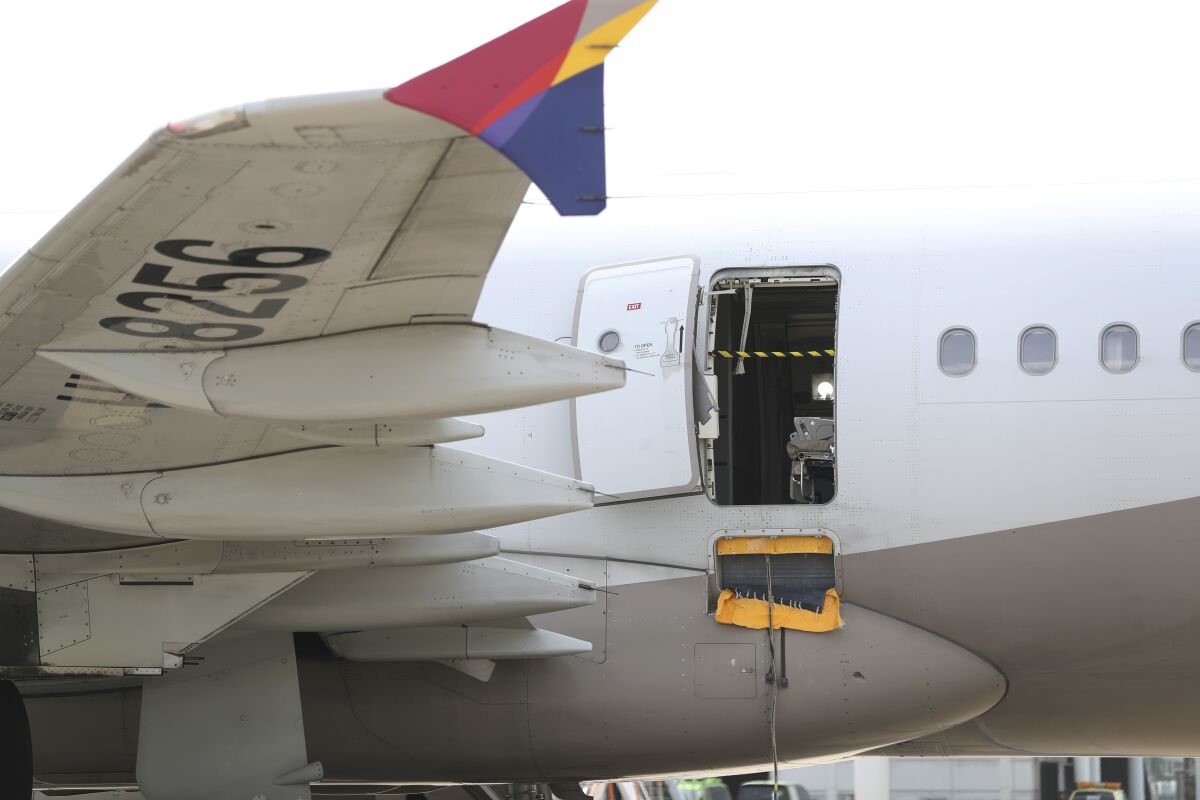 SEOUL —
A passenger opened an emergency exit door during a plane flight in South Korea on Friday, causing air to blast inside the cabin and slightly injure 12 people, officials said. The plane landed safely.
Some people aboard the Asiana Airlines Airbus A321 tried to stop the person, who was able to partially open the door, the South Korean Transport Ministry said.
The person was detained by airport police on suspicion of violating aviation security law, a ministry statement said. The person's identity and motive weren't immediately released.
The law bars passengers from handling exit doors and other equipment on board and provides for penalties of up to 10 years in prison, the ministry said.
A man was detained at Los Angeles International Airport after he allegedly opened an emergency exit door and went down the exit slide as the plane prepared to take off.
The plane was heading to the southeastern city of Daegu from the southern island of Jeju with 194 people aboard. The flight is normally about an hour, and the incident occurred when the plane was approaching the Daegu airport at an altitude of 700 feet.
A video apparently taken by a person on board that was posted on social media shows some passengers' hair being whipped by the air blowing into the cabin through the open door.
The passengers included teenage athletes on their way to a track-and-field competition. Some screamed and cried in panic, the Yonhap news agency reported, citing their coach.
Yonhap quoted other passengers as saying they suffered severe ear pain after the door opened. It said some cabin crew shouted for help from passengers to prevent the door from being opened.
Twelve people were taken to hospitals for treatment, according to the Transportation Ministry. Emergency officials in Daegu said the injured people suffered breathing problems and other minor symptoms.